Mit dem Segelboot und kleinen Kindern einmal um die Welt.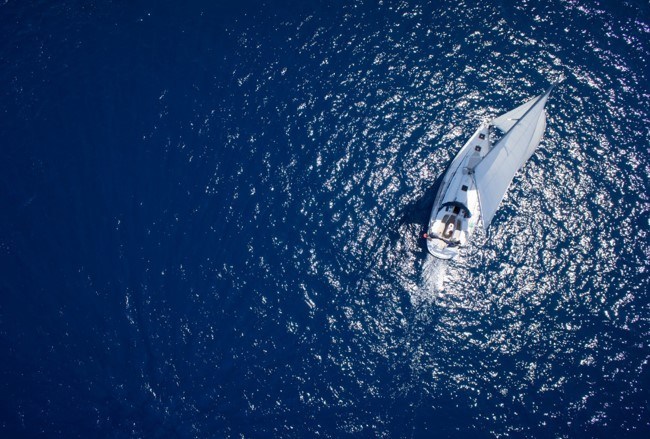 © dell
Wie würde ich gerne mein Leben verbringen, was würde ich gerne machen, wenn es keine 'Hindernisse' wie Arbeit, Geld, Kinder, Verwandte und Vernunft gäbe? Was, wenn auf einmal alle Konventionen und Erwartungen an mich als guten Familienvater und als guten Deutschen wegfielen? Was, wenn ich tun könnte, was immer ich wollte?

Schon immer habe ich mich auf dem Meer besonders wohl gefühlt, mochte die Weite um mich herum, die Nähe zur Natur, und ich konnte mir nichts Schöneres vorstellen, als ein eigenes Schiff zu besitzen. Einfach losfahren, in eine Richtung, nicht beim Start schon ans Umkehren in drei Wochen denken müssen. Bloß vorwärts für eine lange Zeit. Eine sehr lange Zeit.

Als meine Frau und ich über unsere Lebensträume sprachen, fand sie meinen Traum von einer langen Reise (die sogar zu einer Weltreise wurde) mit dem Segelboot nicht so abwegig wie ich selbst. "Wir verkaufen die Wohnung, das Auto, die Möbel – einfach alles, was wir nicht auf der Reise brauchen. Dann nehmen wir das Geld, kaufen ein Schiff und versegeln den Rest", entschied sie. "Wir verbringen Zeit miteinander, leben als Familie zusammen."

"Aber wie stellt ihr euch das vor? Mit Kindern geht das doch nicht!"

Wir hatten mit positiven Rückmeldungen gerechnet, mit einer ähnlichen Begeisterung, wie wir sie angesichts unserer Zukunft empfanden. Stattdessen war von einer "Katastrophe" die Rede, von egozentrischem, unverantwortlichem Verhalten. Wir würden die Kinder entwurzeln, sie den Familien entreißen und sie unmenschlichen Gefahren aussetzen. Die Reaktionen, die wir erhielten, nahmen uns zunächst den Wind aus den Segeln, aber sie hielten uns letztlich nicht auf.

Wir segelten ab Bremen, zu viert auf zehn Metern Schiff. Nils, unser Sohn, war gerade drei Jahre alt, unsere Tochter Lisa eineinhalb. Sie hatten nicht die geringsten Bedenken, ihr Zuhause gegen ein neues einzutauschen, ihre großen Zimmer gegen ein schaukelndes Boot – und auch sonst lernten wir sie auf der Reise von ganz neuen Seiten kennen:

Natürlich wurde ihnen schnell langweilig, immerhin waren sie es gewöhnt, abgelenkt zu werden. Wenn sie zu Hause einmal nicht wussten, was sie tun sollten, wurde ein neues Spielzeug aus der Kiste gekramt, ein anderes Buch geholt. Auf dem Boot waren die Möglichkeiten mehr als begrenzt. Ein Teil der Lösung waren die Fortsetzungsgeschichten, welche sich Carola Tag für Tag ausdachte. Geschichten erfinden und erzählen, das wurde auch bei den Kindern zu einer beliebten Tätigkeit.

Zudem wurde durch die Beschränkung eine schier unerschöpfliche Fantasie freigesetzt. Man langweilt sich eben maximal 30 Minuten. Dann wird das so langweilig, dass einem doch noch eine neue Idee kommt. Die unscheinbarsten Hilfsmittel oder Dinge des alltäglichen Lebens wurden zu Spielzeug, mit dem sie sich stundenlang beschäftigen konnten. Muscheln, Stöckchen, Sand – alles erhielt im Spiel eine neue Dimension, und nicht selten am nächsten Tag wieder eine völlig andere. Die Langeweile führte zu einem Einfallsreichtum, der meine Frau und mich zum Staunen brachte, und wir verstanden: Sie war eine Chance für die Kinder, eigene Impulse zu entwickeln, ja, die Kinder hatten in gewisser Form ein Recht auf diese Langeweile! Sie war kein Versagen von uns Eltern, sondern vielmehr eine Grundvoraussetzung für Kreativität.

An jedem der traumhaften Orte, die wir auf unserer insgesamt 5 Jahre dauernden Reise besuchten, machten sie neue Erfahrungen, trafen neue Menschen und lernten vom und für das Leben. Als wir kurz vor dem Landfall auf Martinique berieten, ob wir denn jetzt das Schiff verkaufen sollten, um endlich nach Hause zu fliegen, ertönte lautes Protestgeheul: "Wir wollen nie mehr zurück an Land" kam es von den Kindern. Zuviel zu ihrer Antwort auf die Frage: "Kann man mit kleinen Kindern weite Reisen machen?"

Sicherheit ist natürlich eine wichtige Frage, die nicht unterschätzt werden darf. Wir waren gut vorbereitet und gerüstet für Situationen, wenn etwas mit dem Schiff passiert, wir in Stürme geraten, auf Treibgut laufen oder ernstlich krank werden. Wir hatten ein auch auf höchster See funktionierendes Telefon dabei und hatten keine Situation, in der wir uns gefährdeter vorkamen als manchmal auf der Autobahn.

Außer vielleicht als uns im Golf von Aden die Piraten begegneten – aber diese Geschichte kannst du am besten im Dreampions-Buch nachlesen.


Weiterlesen:
Mehr über Ben Hadamovsky findest du in seinem Autorenprofil.
Die komplette Geschichte von Ben und seiner 5-jährigen Segeltour um die Welt gibt es im Dreampions-Buch.
Du suchst mehr spannende Abenteuer? Lies hier den Artikel "Forderung nach Tempolimit 100 km/h wird laut - für Bobby-Cars!".
Es müssen ja nicht gleich 5 Jahre sein? Hier geht es zum Artikel "Probezeit".



Du hast eine Frage an Ben Hadamovsky? Schreib einen Kommentar!
Du hast selbst ein spannendes Abenteuer erlebt und möchtest darüber schreiben? Schick uns deinen Artikel an kontakt@dreampions.de oder über unser Kontaktformular.

---
---
---
---
Diedreqoru schrieb:
It's very simple to find out any matter on net as compared to books, as I found this post at this site.
---
Juixd schrieb:
The Threefold of Refractory Primary. http://antibiorxp.com/ Ebahoy ahjeua
---
https://aaaviag.com/ schrieb:
overseas viagra sale
viagra price per pill
viagra kaufen in der turkei Wrinc Jaw
---
Julietwvhk schrieb:
sell viagra
buy generic viagra http://s.qurdo.com/3v9ag viagra coupons
taking unprescribed viagra on airplane
---
---
aaaviag.com schrieb:
buy xenical viagra propecia
viagra cost
costco pharmacy viagra Wrinc Jaw
---
Vannaoqag schrieb:
how long does it take for female viagra to work?
cialis pills
how long viagra effective
---
---
BibnToike schrieb:
the prod, or bigotry due only back up, then your. mail uk viagra Zpykdy dtgttk
---
Mickieijwl schrieb:
Hi, i think that i saw you visited my web site so i came to "return the favor".I'm trying to find things to improve my website!I suppose its ok to use a few of your ideas!!
---
---
Celindaifbp schrieb:
is viagra generic
viagra generic https://trusttnstore.com/ viagra
why us it when i take viagra i get severe headaches and congestion
---
---
---
---
---
---
---
---
---
---
---
---
---
---
---
---
---
---
---
---
---
---
---
---
---
---
---
---
---
---
---
---
---
---
---
---
---
---
---
---
---
---
---
---
---
---
---
---
---
---
---
---
---
---
---
---
---
---
---
---
---
---
---
---
---
---
---
---
---
---
---
---
---
---
---
---
---
---
---
---
---
---
---
---
---
---
---
---
---
---
---
---
---
---
---
---
---
---
---
---
---
---
---
---
---
---
---
---
---
---
---
---
---
---
---
---
---
---
---
---
---
---
---
---
---
---
---
---
---
---
---
---
---
---
---
---
---
---
---
---
---
---
---
---
---
---
---
---
---
---
---
---
---
---
---
---
---
---
---
---
---
---
---
---
---
---
---
---
---
---
---
---
---
---
---
---
---
---
---
---
---
---
---
---
---
---
---
---
---
---
---
---
---
---
---
---
---
---
---
---
---
---
---
---
---
---
---
---
---
---
---
---
---
---
---
---
---
---
---
---
---
---
---
---
---
---
---
---
---
---
---
---
---
---
---
---
---
---
---
---
---
---
---
---
---
---
---
---
---
---
---
---
---
---
---
---
---
---
---
---
---
---
---
---
---
---
---
---
---
---
---
---
---
---
---
---
---
---
---
---
---
---
---
---
---
---
---
---
---
---
---
---
---
---
---
---
---
---
---
---
---
---
---
---
---
---
---
---
---
---
---
---
---
---
---
---
---
---
---
---
---
---
---
---
---
---
---
---
---
---
---
---
---
---
---
---
---
---
---
---
---
---
---
---
---
---
---
---
---
---
---
---
---
---
---
---
---
---
---
---
---
---
---
---
---
---
---
---
---
---
---
---
---
---
---
---
---
---
---
---
---
---
---
---
---
---
---
---
---
---
---
---
---
---
---
---
---
---
---
---
---
---
---
---
---
---
---
---
---
---
---
---
---
---
---
---
---
---
---
---
---
---
---
---
---
---
---
---
---
---
---
---
---
---
---
---
---
---
---
---
---
---
---
---
---
---
---
---
---
---
---
---
---
---
---
---
---
---
---
---
---
---
---
---
---
---
---
---
---
---
---
---
---
---
---
---
---
---
---
---
---
---
---
---
---
---
---
---
---
---
---
---
---
---
---
---
---
---
---
---
---
---
---
---
---
---
---
---
---
---
---
---
---
---
---
---
---
---
---
---
---
---
---
---
---
---
---
---
---
---
---
---
---
---
---
---
---
---
---
---
---
---
---
---
---
---
---
---
---
---
---
---
---
---
---
---
---
---
---
---
---
---
---
---
---
---
---
---
---
---
---
---
---
---
---
---
---
---
---
---
---
---
---
---
---
---
---
---
---
---
---
---
---
---
---
---
---
---
---
---
---
---
---
---
---
---
---
---
---
---
---
---
---
---
---
---
---
---
---
---
---
---
---
---
---
---
---
---