Anna's New York Blog in September – An amazing road trip to Canada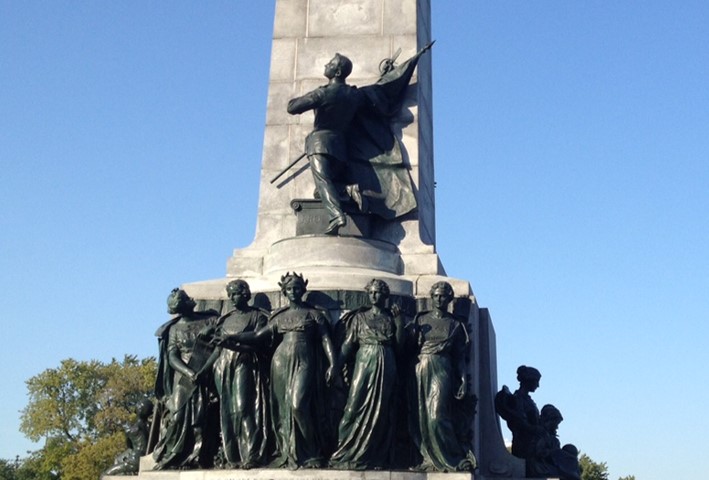 © Anna Budeyri
Like for August, I would still like to stick to road trip theme – being on the road is something I will never get enough of… :) I've always liked road trips for the fact that this type of travel is very spontaneous. You can never plan the timing or "the content" of the road trip for 100 percent. Sometimes we even decided to go on a short road trip just an hour before we depart. I love that we can easily adjust to the flow of the trip – we decide how busy we want to be depending on how much energy we have. Another important reason why I like road trips is that it gives our dog Abbey an opportunity to travel. She enjoys it so much and it seems very unfair when we travel by plane and cannot take her with us…

Early September, it was road trip time again: We travelled by car to Canada where neither my husband nor I had been before. This was a trip we had been dreaming about for some time. Normally, we only travel for a weekend. This time we took a whole week off so we could really explore our destination.

We started off from NYC and drove slowly in the direction of Canada with stops every 1-1.5 hours. The three major stops we made were: Saratoga Springs, Burlington and Killington. Each of these towns had a special appeal and they will be in our minds for long time.
Saratoga Springs – a small town about 3 hours away from NYC. I liked this town because of its restaurants and cafes, there are lots of places serving organic/farm-to-table menus which is something I really wish to see more in the US (especially outside of NYC).
Killington - an amazing area for skiing and other winter sports. It reminded us of winter time in Switzerland. Even though we were there in September, we could easily picture how the place looks like in winter thanks to its high mountains, nice chalets and countless closed ski rental places.
Burlington – this is a town not far away from the Canadian border. We consider this town as a true discovery – we never heard about it before but if it was up to us, we would put it on the list of Top 10 places to visit around NYC. It felt like most of the people living in this town are students as Burlington is home of The University of Vermont. Seeing students all over town created a very special vibe, we felt the energy everywhere. The location of the town also adds something special: Burlington is located on a huge lake where people spend most of their time doing sports, dining or just relaxing while reading books.
After Burlington we went straight to
Montreal
. Once we crossed the border, it became surprisingly obvious that we were in a different country: Road signs were in French, miles became km, US dollars became Canadian dollards, etc. And we liked it a lot! It took us less than 6 hours to reach a completely different world.
For this trip we only visited Montreal to save other Canadian cities for later. We stayed in Montreal for a few days and we believe we really managed to understand the vibe of the city and we definitely fell in love with it. There is an unlimited number of reasons why we liked the place. My favorite impressions were:
The cultural diversity in the city: Montreal is full of things to do even if you do not plan it. As soon as we came to Montreal, we decided to see all of the touristic attractions first and then leave some time for something unplanned. We liked the unplanned part better :) On Sunday we left our hotel and just started browsing the city. First we came across a free concert happening at a church – we went in and were simply amazed! Then we went to the Mount Royal just for a walk. We were lucky to attend 2 performances there: one of a guitar player at the top of the mountain and the other one – just by the park exit – with dozens of locals who had come to the park to play drums together. Such a huge number of drums played at the same time produced an amazing effect on us – it was like a meditation time and we hardly noticed how the minutes passed by. The last stop was an upscale residential area (again not mentioned in tourist guides) with amazing local restaurants. After we dined in one of them, we witnessed a tango dancing session with many local couples on a stage near a small lake. Beautiful!
City "layout"/size: Montreal seems to be just the right size – not too huge (so it does not take you a full day to travel through the city from point A to point B) and not too small (so it has neighborhoods of completely different nature and you notice the changes in atmosphere while you travel through the city). The set-up of the city is also very nice – there are residential areas, there is a business district, there is an old town, there are areas full of parks, etc. And the layout is very logical, as if the city was built like that from scratch by a designer.
This is just a short summary of the trip, we obviously saw much more than I can write about here. Anyway, a road trip to Canada is something I will definitely keep repeating again and again!