Why do something ordinary when there is Disc Golf?
Simon Lizotte about his path from Bremen into the Disc Golf World Tour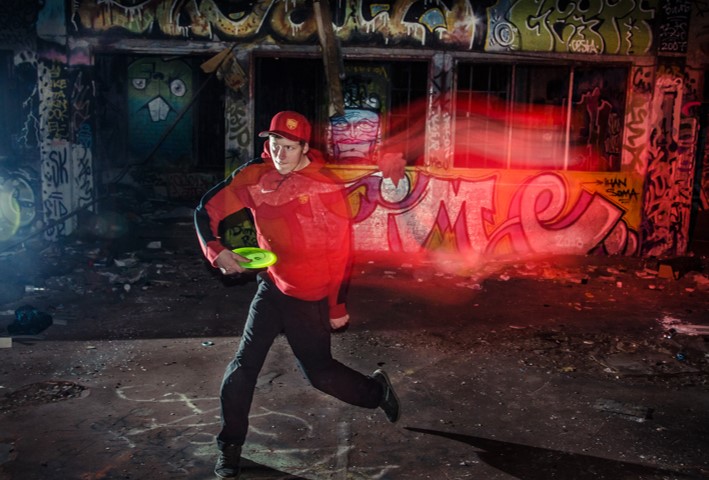 © Discmania
How did you get to this sport? 99 of 100 people ask me this question, when I talk about my hobby, my job – or, better to say, about my passion. Their second question usually is: What is Disc Golf exactly?
I will answer the second question in another article here on Dreampions. First, let me tell you my story and how I became the first professional Disc Golf player in Germany so far.
Inspiration from my family
My father is from Canada, and Canadians are, just like all Americans, crazy for all kinds of sports where you can throw something. That means, he already used to play Disc Golf when he was still living in Canada. In 1992 he came to Germany and he brought the sports of his home country with him. Until today, there is nothing better and more fun for him than to spend his time outside on the field with a Frisbee. When I get back home in between my traveling around the world, I usually just want to relax for a few days before I have to leave again. But my dad never wastes a minute, goes out to play with his friends anyway and urges me to come along. So, I guess, it is easy to understand why I threw my first Frisbee even before I have been able to speak in complete sentences. I grew up with this, and with every throw I made, this special sport became more and more a part of me.
One day it started to become too boring for me just to chase the disk across the field. I already knew Disc Golf, and so, I had a try with it and I was totally thrilled. It was so much fun! And what was even more fascinating to me was that I made such fast progress with it. By the way, this is one of the things I love most about Disc Golf. Your skills start improving already after a few hours of practice. Of course, that doesn't mean that you become a professional without any effort. As in any other sport, you need ongoing practice.
Big dreams will pay off
In the beginning I practiced just when I felt like it, but soon I got attracted by the idea to take part in competitions. At that time I had already watched some tournaments, and to participate in one of them was the first step of my big dream. So I spent more and more hours in the yard and on the soccer field and finally, in 2000, at the age of only seven years, I took part in a competition for the very first time. In this moment I made the definite decision that I wanted to be a professional player. While other kids at school answered the question about their life dreams by telling the teacher that they wanted to become a policeman, a doctor or something else being more usual, I declared: "Professional Disc Golf player."
Many people were shaking their heads about this dream, but never my parents. They supported me when I wanted to take part in more and more competitions from year to year and when I finally got the opportunity to participate in the German Tour. They allowed me to exercise the putting in the yard for hours and hours. They never complained when I threw disc after disc across the soccer field to reach more distance and speed. There was only one single requirement: I had to succeed with my high school graduation. A "Plan B" was important to them.
Fast progress
On the German Tour there were ten to fifteen competitions a year and I competed initially in the Junior Division . At the age of 15, I was promoted to the Adult League, and only one year later I was already one of the best German players. Since then I won six German Championships, and even though it may sound hackneyed, soon there were no more serious competitors for me in Germany. So, I took the next step and started to take part in competitions all over Europe. I focused on Scandinavia, especially on Finland, as Disc Golf is the fastest growing sport there. The media attention and the interest of the fans in Finland are fantastic. There I met one of my biggest supporters, the manager of Disc Mania, who started to be my very first sponsor in 2009.
At the age of 18, I had left most of the European competitors behind. Crossing the Atlantic Ocean to get to the country of endless opportunities was my only chance to make further progress in my sport. In the U.S., there are not only more spectators and higher rewards for the winners – a key prerequisite for a career as a professional -, but also the level of the players is much better than that of the European competitors.
Luckily, my sponsor was just in the process to establish a company branch in the United States, and so I arrived in Los Angeles in 2014. After an adjustment period, I was quickly attracted by the idea to travel across this giant country and to take part in as many tournaments as possible.
And now?
Most of the year I do exactly this. I travel all through the United States to take part in tournaments. And in addition to this, there are still the competitions in other countries, in Australia, in New Zealand, in Europe...
What else can I say? I live my dream, folks!