"... at the end you want to swim across the Atlantic"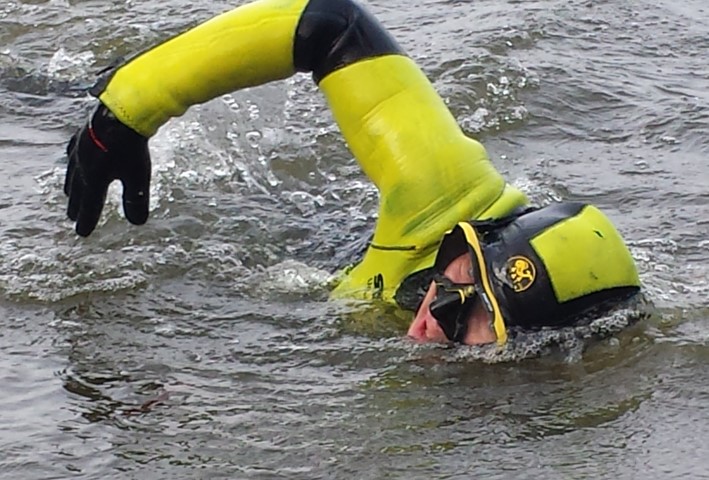 © via: Wolfgang Kulow
For me, extreme sports is an attitude towards life and my dream is to constantly test and overcome new boundaries. I completed a tenfold Ironman, cycled 5,000 km (over 3,000 miles) across America and swam 90 km (56 miles) around Fehmarn Island. I hold several world records in underwater biking, have been the first to run an underwater marathon and have just set a world record in diving when completing the fastest underwater crossing of the Fehmarnbelt.
Why do I do this? I simply cannot imagine a life without great adventures. There is just too much to discover. Already as a child I had set myself the goal of exploring the world. I wanted to get to know the Earth with everything it offers.
Childhood in adventure paradise
I grew up in Großenbrode on the Baltic Sea and my home environment was very adventurous. There were 7 bunkers, an old airfield, a port, torpedo testing facilities ... Everything had been left behind after the Second World War. It was a real adventurer's paradise. I have already been able to carry out my little expeditions and adventures as a child. In the winter, I could walk on the ice for miles. When I was 10 or 12 years old, I often spent time with a sled on the ice, looking at the stars or swimming until late in the evenings.
We were 3 boys at home and my parents always left us a lot of freedom. Only 50 meters from our doorstep, there was a large water inland with access to the Baltic Sea. This was usually frozen quickly. My parents did not mind me being out and about alone in the evenings. It was much more relaxed than today. And I was not outside all night. Especially in the winter, it gets dark early. I took off at about 7 pm and was back home around 9 or 10 pm.
Infected with the passion for diving
When I was 13, the navy and the air force came to Großenbrode. In the navy, they established a private scuba diving club in which former undersea and mine divers offered a scuba diving class after working hours. This was a welcome change for us teenagers in the village. We had the Baltic Sea directly at our doorstep and now, we would learn how to scuba dive with the proper equipment on our backs. That was just great. It felt so futuristic to be under water and breathe normally. That seemed crazy. – This is how it all began, and my enthusiasm only grew.
We went to the diving club every day after school. At some point, the divers were glad to get rid of us from time to time. They also had girls and cars on their minds. So they would say, "You go swim 3 miles to the sound and then walk back along the beach!" Now, I had something to do and they had a break and could take off with the girls. I did not mind at all. All I wanted was to learn and be on the move.
Soon I started my first expedition. The navy divers had already been to Corsica and spoke enthusiastically about the blue water, the colorful fish and the beautiful underwater view. You could see as far as 30 to 40 meters, compared to 5 to 6 meters in the Baltic Sea. It became a dream for me to experience it myself. I started out soon. Next, I went scuba diving in Spain and from there it went on and on.
Dreaming of adventures
My dream of a great adventure is a combination of different elements. On the one hand, there is my enthusiasm for nature, the extraordinary scenery, which sometimes hardly anyone has ever set an eye on before. It is extremely motivating to be traveling in solitude and see the Northern Lights or other formations of clouds and light in the sky, or the changes in light and colors in the desert. On the other hand, it is the interaction of physical fitness and technical know-how. I want to use available technology to accomplish things no one ever has before and to explore new routes. I find this extremely exciting and stimulating to do my best. Especially when unique solutions are required, when things get difficult or are considered impossible and when I hit some limits. Then I try to make it happen even more.
With my focus of life, I have to accept that I veer away from normal people. Many people dream of flying to the Caribbean or the Maldives to go on holiday. I dream in a completely different direction, in other dimensions. Freedom is always on top of my list. I want to experience it with my body, my mind and in the nature. This makes me enormously happy.
My dreams are growing
With this in mind, I constantly find new goals. My expectations are rising and the goals are growing further and further. I sometimes do not even realize this. I did not plan to reach the highest goals from the beginning. This was growing step by step. You swim through the pond in your village, then across the sound, then you swim across the Fehmarnbelt (an approximately 18 km wide waterway connecting the Danish island of Lolland with the Fehmarn Island), across the English Channel, and finally you want to swim across the Atlantic. This is like a spiral.
I always think back about what I have already done. In Mexico, I completed a tenfold Ironman with a 38 km (23.6 miles) swim, 1,800 km (1,120 miles) of biking and a 422 km (262 miles) run. Then I considered that I could swim a lot more if I skipped the running and cycling and used this energy for swimming. Consequently, I swam 50 km (31 miles) from Langeland to Heiligenhafen. It is almost like a game. I try to find out, what is feasible, where I still have potential.
So I always find new projects that inspire and motivate me. And I already have the next big idea in mind ... In any case, it feels great to have a dream and to be able to realize it and I really look forward to telling you more about my adventures in my upcoming articles here on Dreampions.de.
Until then - take care,
Wolfgang Kulow